Getting Started with Permissioning
Getting Started with Permissioning
Updated by Taylor Sloane
Looking to restrict certain docs to certain users? This is exactly what Permissioning helps you do. By restricting articles or whole categories you can choose who sees what.
This means you can host different articles for different people within the same knowledge base and can easily manage access at an article-by-article level.
Understanding Permissioning
By default all published articles are available for the public to view. With Permissioning you can restrict who can see certain articles or articles within a category.
Whenever you're working with Permissions you'll see the Permissions icon which looks like this:

Traits You Can Use to Restrict Access
To make Permissioning super flexible you can restrict access by three different types of trait. You can get specific and restrict down to certain users or broad and restrict to entire roles.
The article author, account owner, and any administrators always have access
🏃‍♀️🏃🏃‍♂️ Groups. Allow access to an entire group of users
🎒 Roles. Allow access to an entire role like Editors
You'll always be able to see exactly who has access under the Members with Access divider.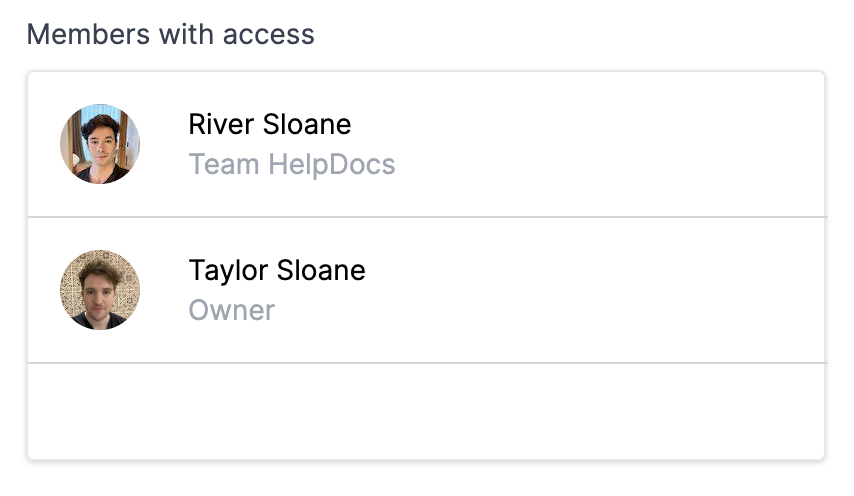 Example Use Cases
So why might you wanna separate content out? Here's some examples we've seen of Permissioning being used in the wild 🦁
📕 Internal Whole Team Content
You've got a team who refer to your knowledge base everyday for customer support. Why not create an internal category to house all your internal authoritative information? Things like company processes, style guides, and feature plans.
Category: Internal
User group: Team HelpDocs
📢 Internal Marketing Content
Got a larger company? You could segment things like blog style guides and analytics process documentation so only marketing can see them.
Category: Internal Marketing
User group: HelpDocs Marketing
🔗 Integration Partners
Want other companies to work on marketing or development to create partnerships with your team? You can create a whole category so only partners can see your partner processes.
Category: Partners
User group: Partners
Setting up Permissions for the First Time
Start by creating a new user group
Assign that user group to a user
Apply that group to an article
If a user hits an article with permission groups and they aren't logged in, they'll be prompted to log in. If they're logged in and still don't have access, they'll be told that too.
Does an Article Have Permissions?
So you've set Permissioning on an article but how can you and your team tell if it has Permissions? There are a few places we show whether it does or not.
Inside the Article Editor
When you're editing an article that has permissions you'll see an icon in the top right of the toolbar with a pink dot next to it. If you're hovering over it you'll see Edit Permissions as a tooltip.

In the Content View
If you're browsing articles within the content view you'll be able to tell if it's Permissioned in a few ways.
You'll see it next to the article meta like the published status
You'll be able to see it to the right with the permissioning button. If it has permissions it'll appear with a pink icon just like inside the text editor

What did you think of this doc?