Updated by River Sloane
We love helping our customers create amazing experiences for their own customers. While we wish we could help you with everything there are some things that we just don't have time to support.
✅ What we can help with
The Dashboard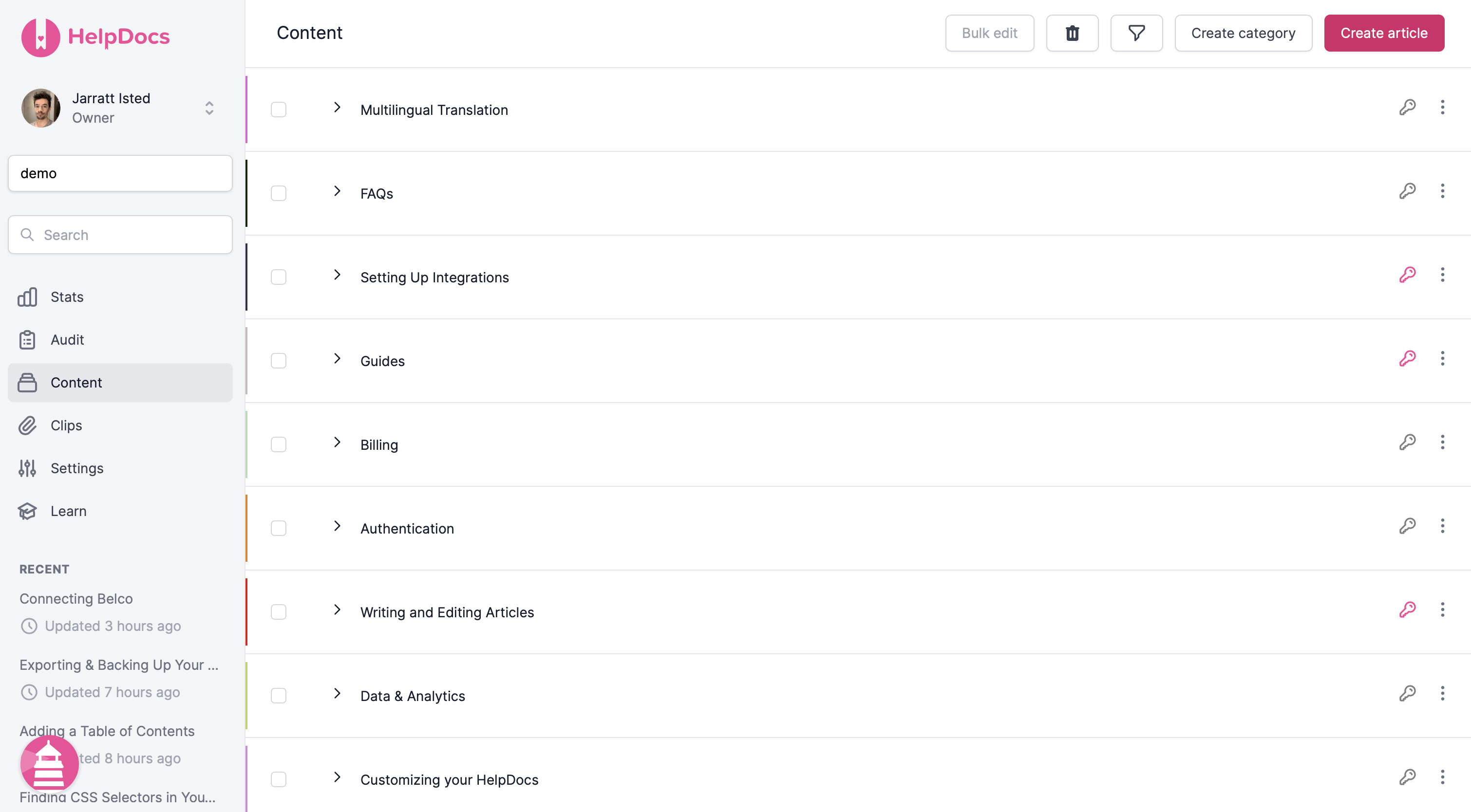 Anything the light touches in your HelpDocs dashboard 🌟
This includes support with the Text Editor, Settings, Article Status', Data Migration, Stats, and Filtering just to name a few.
Features
We've got a bunch of awesome features for your Knowledge Base. From Permissioning to Single Sign On and everything in between. If you have any questions about HelpDocs features and how to use 'em let us know!
API Support
Custom Domain Troubleshooting
Permissioning
Multilingual/Machine Translations
Single Sign On (SSO)
HelpDocs hosting
We provide a fully hosted service. You'll have SSL certificates and reliable uptime so your customers can always find the answers to their questions.
Learn about data security over
here
Native integrations
We can help with our integrations if they're not working the way you'd expect. This includes Lighthouse and our handy Chrome Extension.
HelpDocs API
We've got a great set of Developer Docs to help along the way. We're able to get you pointed in the right direction about which APIs are available and how you can use them.
We can't help with custom builds on top of our APIs
⛔ What we can't help with
Custom code
HelpDocs comes packed full of customization options: CSS, JavaScript, and HTML. Our customers have built some amazing things with all three of these. If there's anything you want to customize you probably can!
We've provided a few code snippets we get asked for frequently in this section and we'll be adding more in the future. 🤗
If you wanna make minor changes and you're not a developer you should check out our guide to finding CSS selectors. It'll run you through the basics for your browser. You'll be a CSS whizz in no time!
We can't help with any custom code and we recommend inviting your developer to HelpDocs to help with customizations. We wrote about this topic
on our blog
if you're interested in learning more 📎
SEO optimization
We do our best to keep HelpDocs optimized so that your Knowledge Base can be found on search engines but aren't able to help with extra SEO support. Here's a guide on Optimizing Your Knowledge Base for Search to help get you started!
Third-party integrations
We are continuously working on making HelpDocs more accessible across different apps/platforms but we're not able to support third-party integrations.
If you have an integration you want to see in the future please let us know and we'll add it to our feature requests list.
Knowledge Base organization & structure
Every Knowledge Base is unique and how you structure your content is completely up to you. We aren't able to support any customizations or Knowledge Base structure requests. You should totally check out these articles though:
👉 Writing Clear and Digestible Knowledge Base Articles
👉 Creating a Knowledge Base from Scratch
Providing customer examples
We totally get that it's helpful to see how someone else in your industry has their Knowledge Base set up but we can't share examples without consent.
If you're looking for inspiration we have a handful of awesome Knowledge Base examples on the HelpDocs Showcase.
🚀 HelpDocs support
You'll get our quickest and most efficient support through email. Send us a message anytime at hi@helpdocs.io and we'll be happy to help answer any questions there 📫
What did you think of this doc?